My journal of Smiles 🙂 …Lucks
Friends, this is my treasure chest, where I keep my riches. What are these valued possessions? My smiles!!!
Things and people that make me smile everyday are my most prized gems.
22-11-2011
What made me happy today?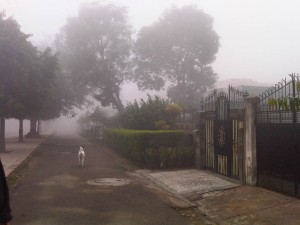 1. I woke up early and went for a morning walk in the fog. Had a wonderful time, winter is here to stay and there's no better time to be out there, than in the early hours of the morning. My Sparky loves going for walks during the winter season.
2. There's a very sweet, old dog, who lives on the ground floor of the building which houses my gym. This one is one moody lady and doesn't accept food from people she is not familiar with. I have been trying to be friends with her for a long time now but she has been resisting my efforts. Today she smiled at me, almost smiled :), wagged her tail and accepted biscuits from me, yay, I am thrilled.
3. I was greeted with a chorus of 'good morning' by a room full of people at the reception, the moment I entered my Gym. This simple gesture made me happy and welcomed. We don't realize it but little things make a big difference to our lives and on some days these tiny gestures brighten our otherwise weary and drab days.
These are a few of the things which made my day…
"Enjoy the little things, for one day you may look back and realize they were the big things." ~Robert Brault
What are your lovely moments? Share with me and spread the cheer…
Lucks aka Sulekha