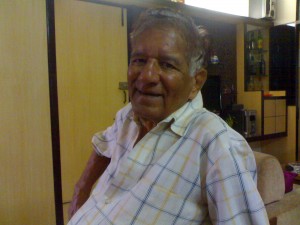 Clothes have a tendency to retain the perfume even after they are washed.The gown you had worn to the dance reeks of your Hugo Boss woman perfume, post wash.My son's school uniforms scream Axe doespray.My Dad's shirt has his smell,the woodsy,brylcreemy smell.I had bought a shirt for him on Nov 17th 2009,from Cottons in bandra.At that moment I hadn't known that it was going to be my last gift to him.It's a white shirt with little blue flowers,Dad had loved the shirt.
On 8thJan2010,he had wanted to wear this shirt but it had gone for a wash and he couldn't wear it.I think he knew that he was leaving this world and going.My sister-in-law,Jyoti tells me that he had been very upset when he was told that the shirt was still wet.My nieces,Kavya and Diya had been playing Bob Marley's song,"Don't Worry Be Happy",On the computer and Dad was enjoying this number.All those who were lucky enough to be near him in the end, share their memories with me.I just listen and try to remember my last memory of him.
It was on Nov 22nd 2009,that I had last seen him smiling and wishing me good luck.I had been on my way to the airport to go to Delhi.I remember him giving me a sweet hug,he had lost a lot of weight but his hugs were still the same.I don't really remember whether he had come down to the car or had said goodbye from the 3rd floor.Had I known that it was the last time I would be meeting him,I would have told him that I loved him a lot and that he was my number one Man.The only person in this world who I could depend on,who would do anything for me,anything.I had so much faith in him,to get me the Moon even,had I asked for it.He was my own fairy Godfather.Now I am an ordinary person without any special powers,since he has gone away.
I have his shirt with me though and it smells of my Dad's brylcreem and deo and his special daddy smell.I can feel that he is close when I hold it in my hands.How do I bottle this fragrance?How do I keep it forever?
Lucks aka Sulekha