PAY IT FORWARD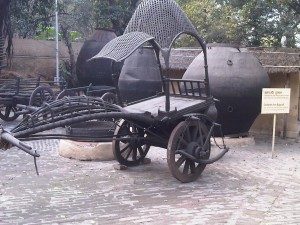 North India is famous for it's cycle rickshaws, the Poor man's ride. On my husband's voluntary retirement from his job, we shifted to Noida and these three wheelers fascinated me. Since I am steering wheel challanged, These Rickshaws were a godsend for me. All of a sudden I was mobile. Whether it was a trip to Atta Market or to Indira Market, cycle rick was the way to go.P.T.A at my son's Delhi Public School or a trip to my dentist. I was on the move and boy did I feel independent and free.
My dear husband is more farsighted and wiser than me. He used to caution me against these ricks. I used to make fun of him and call him a snob. Once I persuaded him to go to The Great India Place Mall with me by cyclerickshaw. He was apprehensive and on the edge all the way and with good reason too. I learnt this lesson the hard way. He hired a driver for me. Life became easier and fun but as they say all good things come to an end. One fine day our driver had to go to his village as his mom was unwell. She had been diagnosed with cancer.
Now that I knew about the proximity of all the Malls and markets to my place, I
Wanted to visit them, driver or no driver. This is where the cycle rickshaws came into the picture. On one such ride to my dentist, a mere ten-minute ride from my house, my husband's prediction came true. While negotiating a curve, the cycle rickshaw puller lost control of the vehicle and it toppled over to the side.
One minute I was enjoying the cool evening breeze of November and the next minute I was struggling to hold on to the side bar of the rickshaw to prevent myself from falling onto the road. Alas I was unable to anything to save myself. The right wheels went up in the air as if in slow motion. I tried to save my head and managed to land on my left elbow. Boy was it painful. The landing was soft but the entire iron frame of the rickshaw landed on my left ankle joint and almost crushed it. I remember screaming like a mad woman," Lift the rickshaw, my foot is hurting, lift it up."
I had always hated coming to settle down in Noida as I am a true bombayite, Born and brought up in Bombay. I had lived the first 28 years of my wonderful life in this majestic city and no other place was good enough for dear old me or so I used to think until now. Within moments of my fall, I was surrounded by a number of good Samaritans. Since this was my first accident, I was in a state of utter confusion and shock. Some good men lifted the rickshaw from on top of my foot and a lady helped me pull my foot out from under it. After that I was lost. I kept on saying"Oh God'Oh no, Oh God".
Someone picked up my handbag and gave it to me. One lady asked me where I lived, I was at a loss for words, and the pain was killing me. I remembered that my brother in law is a doctor. I informed the people around me and this kind lady took my phone and dialled the number for me. Meanwhile a car was passing by and the two young men in it stopped to help. One of them came and offered to take me to the nearest hospital. I saw a lot of water near my foot and asked one lady, where has all this water come from?" She replied that it was the blood seeping out of my wounded foot. When I looked at my foot, felt lightheaded.the sight of blood does this to me and to think that my Dad had wanted me to become a doctor.
Anyway, all the wonderful, helpful people who had gathered there helped me into the car. I am a clean freak, according to my kids, true to my nature, I told the young man, whose car I was getting into," your car will get dirty". He said, never mind. How sweet is that! God bless him and his family. He picked up my bloody sandal and put it in the car. I am so embarrassed by my behaviour, on the way to the hospital. I couldn't stop crying, partly due to the pain and partly due to the shock. I remember them telling me not to cry and that we were almost there. I spoke to my sister in law, who is also a doctor. She called up her husband and we all reached the hospital at the same time.
She told me not to panic and surprisingly enough I didn't. A wheel chair was brought and I was wheeled efficiently into the minor O.T.The young man again picked my sandal and gave it to me. I didn't want to leave without knowing their names so I asked them to give me their phone number. Their names are Arjun and Shourya.When they said goodbye to me I said God bless you, and I meant it from the bottom of my heart. Those two and all the others, who helped me on that fateful day, restored my faith in humanity and redeemed Noida in my eyes. I made a promise to myself that I will also try and be of help and service to my fellow beings, like all these people had helped me. My father had a beautiful quote framed and put on the wall in our house, it read like this," I shall pass through this way but once, So if I can be of any help or service to my fellow beings, let me not neglect it, for I shall not pass through this way again". Amen.
Luckily there was no fracture, only cuts and bruises. I was administered a painkiller injection and tetanus injection, bandaged and sent home. Since my husband was out of station and I didn't want to worry him, I instructed my in laws not to tell him anything. My father is not keeping the best of health so I did not inform him too. But I wanted to talk to someone who loved me and cared about what happened to me, so I called up my firebrand daughter, Shloka.I call her "Shola". She is studying in Bangalore. After telling her the whole story. I told her to keep it to herself. Maybe I was selfish to burden her with this secret but I knew she would come through. She is my tough softie, my pride and joy and my strength.
P.S. I have still not called up my saviours as I am embarrassed by my behaviour that day. I kept on crying and calling out to my mum,"Mummy"."I don't want to go to the hospital", In Fact I remember saying something to the effect," If I pass out on the way to the hospital, Please tell the doctor that my blood group is B rh _ive". How can I ring them up and behave like a forty four year old, when that day I behaved like a baby.
I will call them up because I am sure they must be wondering about what happened to the crazy , hysterical lady with the negative blood group.
SULEKHA