I take great pride in introducing my guest today. She is a wonderful writer, blogger, poet, entrepreneur, and a fitness enthusiast. She starts her introduction with "I am a homemaker". Isn't she a dream? I met this beautiful and talented author in Mumbai. It was at my first Indiblogger meet in 2010. She just knew that she wanted to do a lot of things besides writing. At the time, she wanted to train for and run a marathon, which she has since done. I will let her tell you her inspiring story. Presenting Janaki Nagaraj…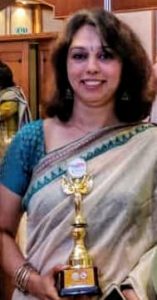 Tell us little bit about yourself.
My name is Janaki Nagaraj, living in Mumbai fort he past 16 years with two grown up kids, a hubby and 3 cats. I am a homemaker, a fitness enthusiast, a home chef having a small entrepreneurial venture and a writer…in that order. My short stories have featured in a couple of anthologies, my poems have featured in poetry anthologies, I have published an eBook of short stories called, Fragments, and recently a book called, How to Stay Fit for Authors, which is a general guideline book for everyone who wants to take care of their health and lifestyle.
When did you start on your fitness journey?
When I joined the gym along with my friend around 12 years ago, it was to beat boredom. I guess it was destiny that I got hooked. Initially, I was just following what the trainers taught me not really understanding the importance of proper nutrition and diet nor a goal-based workout plan. I did not have a goal and like most people I wanted to lose weight. But I wasn't losing weight. There's a whole lot of science involved when you want to lose weight and crash diets or drinking lemon water is not one of them.
What was your fitness goal? Could you achieve it?
I also had this dream of participating in the marathon without a clue as to how to do it. I did start running for a start. I enjoyed it immensely. I ran the Bangalore Ultra Marathon in November 2011 and completed the 15km race in 1.30 hours and stood 8th in the women's category. It gave me a huge boost in confidence. My next marathon was the Mumbai Marathon in January 2012. I had pre-existing injury. And in spite of taking precautions and rest, I fractured my thigh bone during the marathon. I had to undergo a surgery.
What were the hardships you faced in your quest to follow your dreams?
It took me 5 years to overcome the fear of running. Meanwhile, I changed my gym and the new gym I joined, changed the whole perspective I had about fitness. I learnt the importance of nutrition, diets and goal specific workouts. My trainer trained me for the marathon which was a goal specific one and sport specific workout regimen. 2016 January, I completed the Mumbai Half Marathon in 2.10 hours standing overall 35th in my age category….And till date this timing remains my PR.
2018 January, I fractured my ankle running the same half marathon!! Jinxed? No, I have a low BMD and the fractures are stress fractures caused by low level of Vit D3. Yet I went on to finish the race with my broken leg in just under 2.30 hours! You learn the hard way. And giving up was never an option.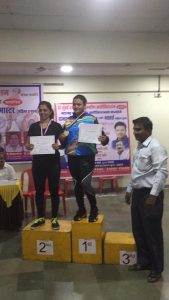 How did you get back in the saddle? What kept you going?
I come from a family where auto-immune diseases are common. I have seen my near ones suffer and succumb to these. These diseases also affect the quality of life… and I am fighting that. Not easy as the journey of fitness is ridden with injuries. Three months after my fracture, I was back in the gym doing yoga, Zumba and my regular functional training. Meanwhile I participated in a fitness competition for women. Though I did not win, I earned some good friends. I learnt about their journeys and they are some really commendable strong women. If you are not strong mentally, you cannot become strong physically. Everything boils down to determination and perseverance. Boils down to "How bad you want it!"
How and when did you get into power lifting?

It was in September of 2018 that I decided to go for power lifting, just like that, on a whim. For any competitive sport, form and technique are very important. I was blessed with a trainer who is a task master and emphasizes on these two. Three months into power lifting I got an opportunity to compete in the Maharashtra State Level Power lifting competition. And guess what? I won the silver medal in my category….My first every competitive medal! This at the age of 47. My next goal is to participate in the National Level Power lifting Completion.
Congratulations on your award, tell us a bit more about it.
Recently, I bagged the Inspire Beyond Motherhood award of "Fitness Guru" – a recognition and an appreciation to what I have achieved. To me it is the "Arjuna Award" for the time being. This award has been initiated by a couple of women, one who is a blogger and the other a nutritionist, both who did not let motherhood come in the way of their dreams and goals. I believe this is a fabulous concept to honour and appreciate those women who want to have it all.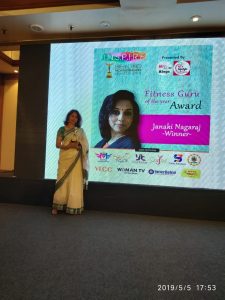 Any words of advice for our readers.
We are never too old or young to do anything we desire. It is the fire in you and the passion with which you pursue your goal that matters. When you decide what you want, the Universe will certainly conspire to give you what you want. All you need is determination and a ton of patience…quitting is not an option. No one will do it for you. Get out and make it happen.
So dear readers, this was Janaki Nagaraj sharing her fitness story with us. Her courage and determination is commendable and so is her hard work. When you have a goal in life and work towards achieving it with all your might, nothing can stop you. The obstacles only spur you on to leap over them and reach the finish line. Janaki, I am sure you will go on to greater heights and one day bring a gold medal home. We are cheering for you. Way to go!