Book Title – The Woman Who Saw the Future
Author – Amit Sharma
Publisher – Readomania
Pages – 272
ISBN  -9789385854552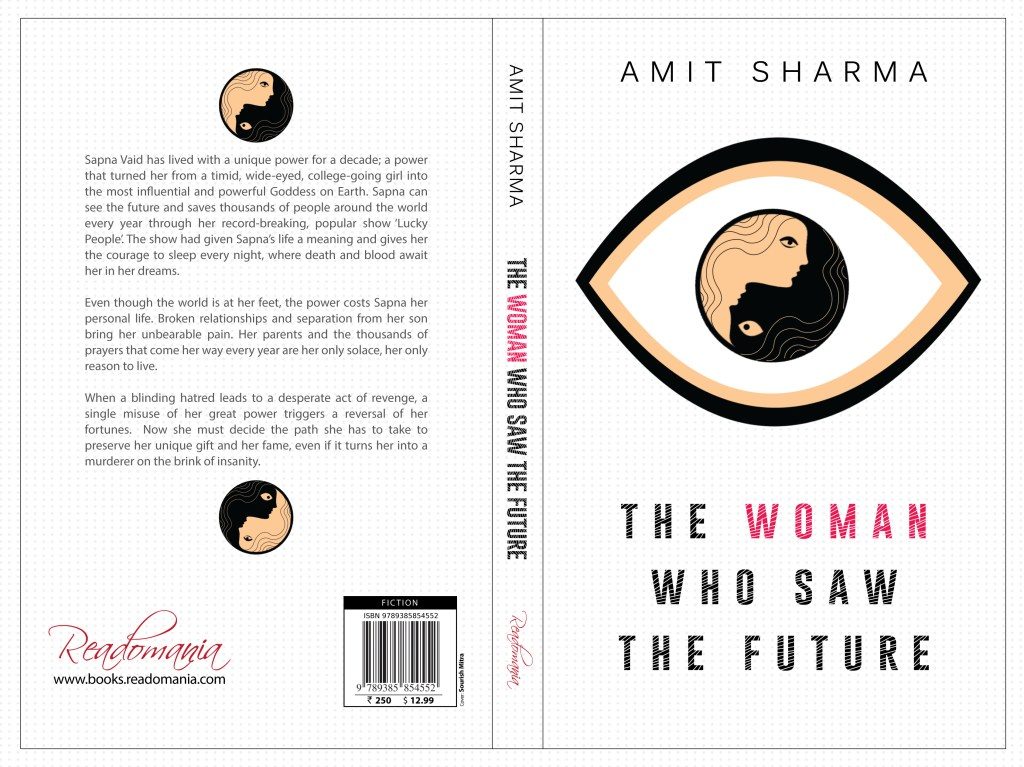 Book Review
Was Sapna Vaid gifted or cursed? Girls her age dream of Sidharth Malhotra, Ranbir Kapoor, Ryan Gosling, Chris Evans, etc. A college going girl, happy and carefree, with a friend, Saahil, who is more than a friend, Sapna should have been happy. But she was destined for other things. She could see the future. This power was given to her unasked. The trauma this little girl goes through could make even grown-ups tremble. Her best friend, Saahil, is her sounding board and is the one who keeps her from unraveling.
Imagine going to sleep every night and seeing dead bodies and hearing agonizing screams of the victims. It is a daily occurrence and not a one-time thing for Sapna. She tries to come to grips with her situation initially but fails miserably. Discussions with her parents help a bit, especially with her mother. Her father distances himself from her and leaves her to her scary dreams.
At first, Sapna doesn't want anything to do with the gift but gradually begins getting used to it and finally, in the end, she cannot do without it. With great power comes greater responsibility, but Sapna fails to be responsible. She helps people with her television show and finds solace in the good she manages to do through it but something happens to change the course of tide and she is left floundering to stay afloat.
An outwardly normal looking average family is seldom so. A happy couple with their two children may look like an ideal happy family but the truth could be nowhere near. The college going son may look like an obedient and disciplined boy but he could be secretly sniffing glue or smoking weed to get high. The daughter could be cutting herself to slay her inner demons. The parents may or may not know about it and even if they did, I'm sure they would try to hide it to keep up the appearance of being a functional happy unit. What will people say? We all fear this and go to any lengths to avoid upsetting the calm. As long as we escape the radar of society and live a socially acceptable life, everybody is happy. But there are some anomalies and exceptions.
The writer has portrayed the women in the story as being emotionally strong. I am glad to proclaim Amit a feminist. Sapna's mother Kalpana is shown to be an emotionally strong person and her emotional husband needs her support in dealing with harsh realities of life. He is the one who collapses during a difficult time in their life while she holds her ground. Sapna is vulnerable to start with but as time passes she develops nerves of steel. Sapna's friend Mehek is another toughie while her brother, Angad, is not so much. Anupama, the star reporter of a major TV channel, is a fearless, eccentric tomboy who calls the shots in her relationship with her inspector boyfriend, Om. This is an interesting trend to observe in this book and a welcome one too.
Sapna's father, Prakash, knew from his courtship days about Kalpana's affinity for justice and doing the right thing at any cost. The incident where she beats up a boy for slapping a girl's butt at a bus-stop brought to mind an old forgotten incident from my childhood.  My father couldn't bear to see any girl/woman being harassed by goons in any guise. He once spotted a man pestering a young girl near chowpaty beach. My father pulled up the man and put the fear of God in him. My mother was terrified of going out with my dad because he would catch hold of anyone eve teasing girls in public places and beat him up. He was the fighter just like Kalpana in this story. My mother was like Kalpana's husband, Prakash, the hauler. 🙂
Each chapter has an interesting quote at the beginning that complements the content in the same. I liked the way Amit has highlighted some extremely sensitive issues in his story with references to a couple of paintings. The first one mentioned at the start of the book is by Andrew Wyeth and is called Christina's World. It looked like a happy picture but turned out to be the exact opposite. It depicts a woman sitting in a field and staring at a grey house far away on the horizon. It seems to be a joyful painting but it's not. The woman's name is Anne Christina Olson and she is suffering from polio. She is not sitting but crawling across the field towards the house. Sapna's mother, Kalpana's state of mind is aptly described by this painting.
The second painting is The Falling Boy by Kalpana. It was of a boy who was about to fall off an open door of a speeding train. A hand held his collar, trying to pull him back to life. The focus is on the hand and the collar; the rest of the objects somewhat melted into each other in bright convolutions. It was an image of a hopeful reality. These lines pierced my heart and I could visualize the tragic scene. This painting helped a distraught and grieving mother cope with life.
To quote the blurb on the book jacket – When a blinding hatred leads to a desperate act of revenge, a single misuse of her great power triggers a reversal of her fortunes. Now she must decide the path she has to take to preserve her unique gift and her fame, even if it turns her into a murderer on the brink of insanity.
In the midst of all the drama, bloodshed and tragedy I find myself questioning the choices Sapna made and the lengths she went to keep up the appearance of her persona.
Did mass adulation appease her soul?
Did her wrongs make anything right?
Was she gifted or cursed?
Can one walk away from fame unscathed?
Would you like to possess Sapna's gift?
By Sulekha Rawat