Gratitude is the music of the heart, when its chords are swept by the breeze of kindness. ~Author Unknown

Five things I am grateful for This August.
My joint family in Mumbai
I flew down to Mumbai to celebrate Raksha Bandan with my siblings and my mother. This was a pretty special occasion because after long all four of us were together with mom to celebrate this festival of love and bonding. I had a great time with them all and made plans to visit again soon.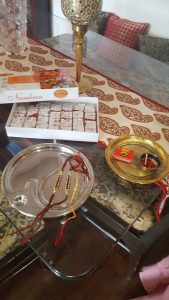 My nuclear family
My husband is my best friend and so is my daughter. They manage the house beautifully in my absence and don't make me feel guilty when I head over to Mumbai to meet my mother every month. Visiting my mom every month is a promise I made to myself 7 years ago when my dad passed away. The father-daughter duo makes my life beautiful. So does my son, the youngest member of our family. Though he is 6 feet tall and 25 years of age, he still remains my baby. He lives thousands of miles away but is always on my mind. I am grateful for my family.
My friends
Friends are like Sun rays for the sunflower.
We bloom because of their loving warmth. I'm grateful for my group of friends who keep me happy and glowing. My weight and I are in a love hate relationship so I try and go for evening walks to make myself healthier and lighter. But some days I just don't feel like going for my walks and this is where my dear friend Mona comes in. She motivates me, accompanies me to the park for our daily walks. Mona is my walking buddy and I'm grateful for her presence in my life.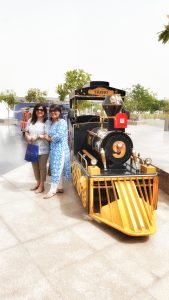 My friend's birthday
August saw me celebrate my friend, Kriti's birthday and boy was it a memorable one! I might have missed celebrating her special day with her for the past couple of years but was determined to be with her this year, come rain or shine. Once you decide to do something the universe conspires to grant you your wish. I believe in it and I am grateful to the universe for this special gift.
My maiden solo trip to Leh-Ladakh
And finally, I fulfilled my dream of going on a maiden solo trip to Leh-Ladakh. I have penned a few Haiku about this wonder trip and my experiences over there. A preview of my solo trip 🙂
This was my first solo trip but there were a lot of people involved in making it a hassle free one. Starting with my husband of 29 years.  He is my rock, my lifeline. Next is my sensible, sensitive, fiercely independent and outspoken advocate daughter. She argued her case relentlessly and presented evidence to support her statements on why I shouldn't travel to Ladakh on my own. And being an excellent litigator, she'd have won hands down had my hubby not stepped in and vetoed her arguments. I am grateful to her for her love and concern and thankful for my husband's complete faith in my ability to look after myself under any circumstances. He had my back and I walked tall. Love my family to bits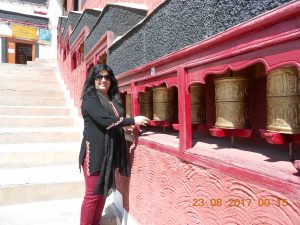 I'm grateful to my travel agent for making all arrangements, my cabbie, for driving me around and bringing me back safely. The roads are pretty tricky and are nearly nonexistent at certain places; especially on the way to Khardungla pass and Pangong lake.
My gratitude to the staff at the resort in Leh, for making my stay a comfortable one. The many strangers I met while traveling and their kind willingness in clicking pictures of the middle-aged lady traveling alone.
Finally, I am grateful to the Universe for granting me my wish. Now that I have had a taste of independent travel, I am already making plans to go on my next trip 🙂
Linking it to Vidya Sury's August Gratitude Circle Blog Hop
You pray in your distress and in your need; would that you might pray also in the fullness of your joy and in your days of abundance. ~Khalil Gibran
By Sulekha Rawat