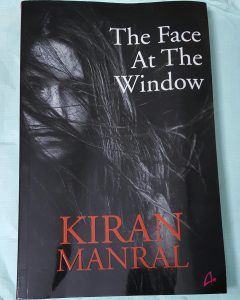 About The Book:
What if at the end of one's life, one realises that one has lived out a lie?
Mrs. McNally, a retired school teacher, living alone in a cottage at the foothills of the Himalayas, has secrets that if revealed could shatter the two people she cares about the most, her daughter Millie and her granddaughter Nina.
Torn by her desire to reveal the truth that could change Millie's life, and the need to let things continue as they are, Mrs. McNally grapples not just with ghosts from her past, but also a strange, vicious presence in her house that seems to want something from her. Will she ever find the peace that eludes her, will she be rid of this entity haunting her house and, more importantly, will she find closure? A gently nuanced, layered story that deals with the lack of identity and an eternal finding of self, The Face at the Window holds a mirror to the fears we are all afraid to voice, the fear of ageing, the fear of not belonging, and above all, the fear of having no one to love you at the end of your life.
Book Title: The Face At The Window
Author:       Kiran Manral
Publisher:   Amaryllis (21 March 2016)
Language:  English
ISBN-10:    9381506787
ISBN-13:    978-9381506783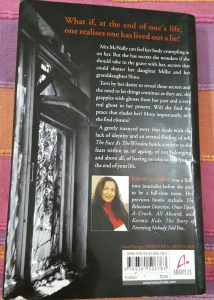 Book Review:
Let me begin my review with this heartfelt emotion, fearful regret. I rue the day I decided to read 'The face at the window' by Kiran Manral. Why? Because I am terrified of being alone at home, a place I felt perfectly safe in, until now :). Thank God we have box beds; there is no chance of someone hiding under my bed to grab my ankles and pull me down. I gave away my rocking chair to my in-laws a while back and boy am I glad of my magnanimous act  back  then, because no way could I keep it in my bedroom now and not freak out, especially after reading about the ghost in the rocking chair.
This book is about love in all its varied forms, from passionate love between lovers to the maternal love between a mother and her child. There is another kind of spooky love/hate relationship depicted in the pages of this engrossing book where the boundaries between the two emotions are blurred and hazy. The ghost of Mrs. McNally's past comes visiting in her present, dredging up old memories and dormant regrets in her heart and mind. The first flush of romantic love is a fleeting visitor in her turbulent life, leaving her bereft and yearning for her lost love.
The spirit lurking in her house and staring at her with blood-red eyes has an agenda of her own which no one is privy to throughout the story. This ominous presence creeped me out and sometimes when I am all alone I can hear her whispering voice, but this time she calls out my name. Why didn't I stop reading this story after a few pages, because I couldn't 🙂 Once I started reading it, I was possessed.
I have contemplated writing my memoir and could relate to what Mrs. McNally, who's affectionately addressed as Masterniji by everybody around, was trying to say in the opening paragraph of the story, while attempting to write hers. "Your mind sieves through memories as thick as molasses and as bitterly sweet. The words trip on your tongue but hesitate to make their way to the page because you're at endlessly in your head about which of them you should put down in print, terrified of the permanency of the written word."
Nina, the young and lovely teenager loves her grandmother, Mrs. McNally. The affection she showers on her grandma makes up for her mother's lack of the same and infrequent visits home due to her job. Oblivious to the strained relations between her mother and grandmother, Nina spends all her holidays at the Windermere Cottage in the foothills of the Himalayas with her grandmother. It helped that her boarding school was a four-hour drive from the cottage.
The key characters in the story besides Mrs. McNally and Nina are – Sandeep Sanyal , the young doctor in his early thirties who, along with Dr Sharma, looked after the patients in this small town. Manikji and Bimla (the caretaker couple). Sumit Kamat, the reclusive writer and sort of a neighbor since he had taken the cottage behind Windermere on rent for a few months. And finally, the one who materializes out of thin air and scares the living daylights out of the readers and Masterniji alike, The face at the window.
"The most difficult thing to do after a life well lived is to sit down and type it all out."- Julia McNally
The  secret deeply embedded in her soul keeps old Mrs. McNally awake at nights, the face at the window adds to her confusion. She contemplates revealing all to her daughter, Millie, but is afraid of the repercussions. Should there be secrets between family members? Is it wrong to shield your loved ones from hurt and pain by withholding information? Can two wrongs make a right? What does Mrs. McNally do with the secret she'd kept hidden in her heart for decades? Is all revealed in the end and how does it affect her family members? What happens to the face at the window? Read the book to get the answers…
By Sulekha Rawat