An act of kindness by a stranger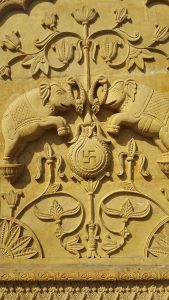 It was an ordinary day. While at the store buying a few grocery items for the weekend, I happened to tell the cashier that I had missed out on getting a bottle of honey along with the rest of my purchases since it wasn't stocked on the shelves. My receipt had already been printed and he was waiting for me to hand over my credit card to him, when the woman standing in the queue behind me pointed to the back of the aisle and told me that a fresh stock of honey had just been put up there. I was stuck in the narrow passage with the laden trolley blocking my path; she offered to get me a bottle from the aisle.
She hurried back with the bottle and handed it over to me with a smile on her gentle face, I was pleasantly surprised at her kind gesture. The cashier too wasn't annoyed by the delay caused, waited patiently for her to come back from the far end of the aisle. I thanked her and told her that her act of kindness made my day special. I also informed her about my Gratitude Journal, the entries I make in it daily and how I read the positive things that happen to me every day before going to bed. This brings a smile to my face and peace to my heart, I sleep better and wake up feeling charged up to face yet another day.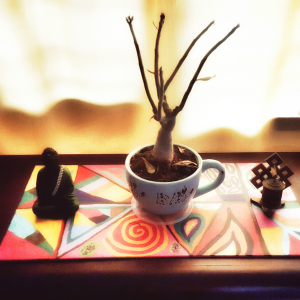 The cashier had been listening to our conversation intently and called out to me as I was exiting the store. He asked me a question I wasn't expecting to hear. "Ma'am, can you predict the future? Are you an astrologer?" He had seen my crystal bracelets and huge stone rings and come to the conclusion that I was a Jyotishi (Astrologer). He further asked me if I could read auras of people. He didn't believe me when I told him I was just an ordinary person with a keen interest in crystals and their healing effects, hence the many crystal bracelets adorning my wrists. I had on bracelets of Sodalite, Prehnite, Howlite, Citrine, Clear Quartz, Jade and Rose Quartz.
I would have walked out of the store and forgotten all about this incident but for his simple statement that made me give him a second look. "I have a lot on my mind, I think a lot." I wish I knew how to counsel him, he looked worried, but also hopeful of getting answers to his problems from me 🙂
I don't even have the answers to my problems, am living one moment at a time, learning from the mistakes I make along the way. If I had to give him advice on dealing with stress and problems, I would tell him what I do. I focus on getting through each moment with honesty, happiness and kindness, this way my head rests easy on the pillow and I have no regrets.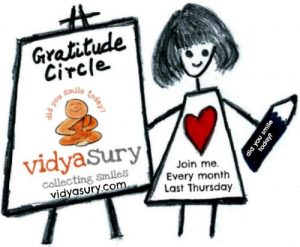 Linking my post to the May 2016 Gratitude Circle blog-hop at Vidya Sury, Collecting Smiles.
By Sulekha Rawat