Book Review – Gone Girl by Gillian Flynn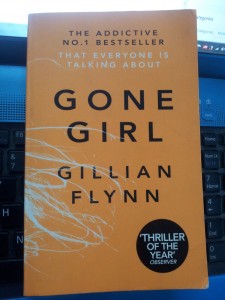 .
Book Title  :Gone Girl                                                                                                             Author        :Gillian Flynn
The Book in brief
Five years into his marriage, Nick Dunne finds himself embroiled in a murder investigation. The victim is his beautiful and amazing wife, Amy. The needle of suspicion points at the husband when his wife disappears on their wedding anniversary; especially after her incriminating personal diary is found hidden in a nook. The whole town believes Nick to be guilty of being involved in her disappearance and possible murder, even though he denies it, and appears to be cooperating in looking for her with the police and the public. What goes against him is that he looks like he is hiding something; is he a killer? Where is Amy's body? Will they ever find her and bring her killer to justice?
My Book Choices in Brief
I am a voracious reader and love the company of books; I sometimes prefer spending time with fictional characters rather than the real ones in my life. Browsing through shelves of books in the bookshops takes me back to my childhood days when I used to run to the rental library, after school, to get comics and story books home for the day. My pocket money used to be thus spent and I never felt the need to splurge on toffees and candies, like many of my friends.
One day, at the book shop in the mall, I chanced upon this Orange colored cover page of the book, Gone Girl; the black lettering on it stood out and immediately grabbed my attention. I generally don't venture out of my comfort zone, even while picking out books. My favorite genres are romance, comedy, tragedy, with courtroom dramas of John Grisham, thrown in to give it a good mix. I like reading books by Robin Sharma and Paulo Coelho, and haven't quite warmed up to books by other self help books' authors. My daughter has introduced me to a few new genres of books/reading and is now on my case to get me to read The Game of Thrones and The Lord of the Rings. Yesterday, at our book club meet, Mrinalini too was all praise for the Lord of the Rings series; I take it as a sign from the Universe and will go for it and see how many pages I can read before getting hooked on to it or putting it back on the shelf.
Book Review
Gone Girl came home with me last year but sat on the top shelf of the bookcase for a couple of months before I found her looking down longingly at me. Once I picked her up, there was no putting her down, at all. I was hooked from the first line itself, 'When I think of my wife, I always think of her head.'- Nick Dunne. This should have been clue enough for me to surmise that this was going to be a messing-with-your-head kind of book; twisted, coiled, chaotic and unpredictable, just like my rough tangled hair after a long drive on a dusty road, with an open car window on a windy day.
Even before the story began to unfold, I found myself falling in love with the author's writing. She managed to project so much in such few words; 'My life was alarmless' and 'I was a man of jagged risings', and while I was admiring her eloquent writing style, a murder was being committed, or rather was being insinuated, in the story. The young couple, Nick and Amy Dunne, have been married for 5 years but have each kept a part of themselves hidden from the other. Readers hear two people telling their story, simultaneously, and can't help but cringe at the revelations at every step.
Nick starts off coming across as a normal boy next door, a kind of friendly character whereas Amy comes across as the spoilt, rich aloof girl. The opposites attract, they get married and then starts the real drama. While reading the book, I wondered how these two seemingly different personalities could make a go of marriage; however, my doubts appeared unfounded, as they appeared to be right for each other, or so it seemed initially.
In the beginning, my sympathies lay with Nick. But as the story progressed and the rose tinted glasses came off, a different picture emerged. This one was all grainy and blurry, with shades of crimson coloring both characters with what seemed like blood. This tale of deceit, betrayal and of twisted minds is a psychological thriller that keeps you on the edge of your seat and wondering, whodunnit?
Both Nick and Amy take turns to present their side of the story to us throughout the book and with every page we read, we are bowled over by the writer's ability to hold on to our attention, sometimes making us break out in cold sweat with her brilliant writing. I sometimes wonder what if Amy's parents had a voice in this book, like Nick and Amy. What would they have to say about their only daughter? Would they still think she was amazing?
The emotional bond between Nick and his sister, Margo, was heartwarming. She stands by him, even when unsure about his role in Amy's disappearance; her character comes across as being strong and loyal to her family.The other character that invokes an equally strong but opposite reaction is Desi, with his total faith in Amy. Amy's parents created an imaginary world for their fictional character, Amazing Amy, but in doing so did they unwittingly mar the psyche of the real Amy?
I read this book over a period of three days while going about completing the various household chores. The story had a directly proportional effect on my actions; when Nick and Amy first met, my kitchen was flooded with aromas of fresh spices and condiments. During the time they started arguing, the balance of flavors was lost in my dishes and when Amy disappeared, I didn't cook that night, how could I put the book down and go about my routine life? The characters of the book became larger than life in my head. Kudos to Gillian Flynn for writing such an amazing thriller! Hats off to her.
By Sulekha Rawat
p.s. This tweet from a wonderful writer made my day 🙂
@sulekkha brilliantly written review. I really like the way you set it up. Very enjoyable book. Love a good thriller.

— Chhimi Tenduf-La (@ChhimiTen) August 3, 2015