Welcome to my space.
This is my fourth time at #AtoZChallenge and my theme this year is Sparky, my 11-year-old Dalmatian. You can read all about my theme here.
The story continues…
We live because we remember…memories are precious, treasure them.
Today I took Sparky down for a short walk but she was so tired that she refused to move out of the building compound. On our way up to the house, she stopped at the foot of the staircase and just stared at the flight of stairs. She looked tired and beaten, broke my heart to see her predicament and I picked her up in my arms to carry her to our flat on the second floor.
A kaleidoscope of memories flashed before my eyes, Sparky running ahead of us during our daily walks, both in the mornings and evenings, galloping like a graceful horse. Dancing on the road like a ballerina on the stage, her Panther like dash to reach us while we pretended to head back home when she would wander far from us. All these were just memories now, my Sparky cannot even go down the twenty odd steps on her own.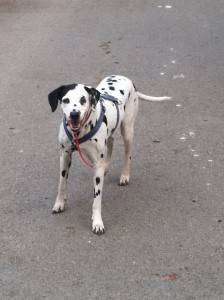 Sparky has become anemic and with her kidney functions compromised her health is a cause of concern to us. The vet had given up on her on her tenth birthday on 7 November 2013 but we didn't give up hope, blood transfusion helped her regain her strength and she has lived an almost normal life since then. The only thing different has been her refusal to eat food on her own. We feed her as if she were a 2-year-old,  making happy noises like parents do while feeding their tiny tots.
Each day is a struggle for Sparky and watching her become weaker day by day weighs heavily on our minds, my husband keeps calling up many times in a day to ask about her condition, when he is out of station. My son is away at college and his what's app messages always start with, 'is everything okay at home?' My daughter hugs and kisses Sparky before leaving for work everyday. I am the constant in her life, one who stays with her 24/7 and she has become my shadow, fearful that I might go off leaving her alone, just like the others.
Memories of days gone by make us laugh at times but also make us shed tears of regret when we think of loved ones who have gone away from us.The key to staying sane is simple, express gratitude for those in our lives and thank the universe for bringing us in contact with precious souls during our journey.
By Sulekha Rawat
Check out some other Bloggers participating in the challenge: AtoZ List 2015
And the Blog-A-Rhythm AtoZ posts featuring many prolific bloggers