I Am The Wind Beneath His Wings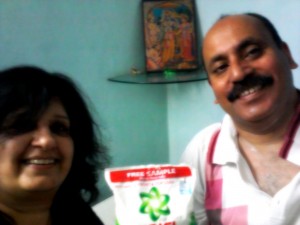 My earliest memories are of my dashing Naval Officer dad wearing his pearly white uniform and going off to work, looking neat as a pin. I also remember my mother soaking his uniforms for washing every day; we didn't have a washing machine then, just a housemaid who helped out and the days she was absent from duty, it was my mother who made sure his whites looked white and stain free.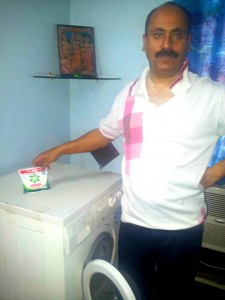 You might wonder what I was thinking when I decided to get married to a naval officer, a pilot at that, for didn't I know how much work it was keeping the uniform ship-shape. But like they say, 'marriages are made in heaven' and these lines by Madhuri Dixit from the movie, Dil Toh Pagal Hai; 'Kahin na kahin, koi na koi mere liye banaya gaya hai … aur kabhi na kabhi main usse zaroor milongi', made the decision for me. We were meant to meet and fall in love, get married and live happily ever after. Or at least I was, that's because I am lucky. We have been married for 27 years this April, and he has never denied me a thing in all this time. He retired from Indian Navy after more than 20 years of service but the discipline stayed with him post retirement too. He still gets up early and goes for his morning walk.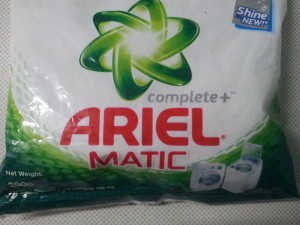 When I asked him to take part in the Ariel #WashBucketChallenge, he didn't even blink once before agreeing to do it, for hasn't he always been shouldering responsibilities at home? We have a pet Dalmatian, Sparky, who jumps up with joy every time we walk into the house, leaving her paw prints on our clothes, as calling cards. She also climbs on the bed, trailing mud and dust on the bed sheets, making the laundry pile up. We both pitch in and take turns washing the clothes, making life easier for both of us.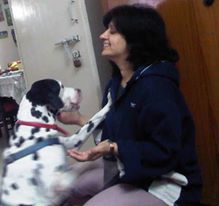 My brother-in-law lived with us in Mumbai when he was doing his post graduation in Radiology and observed my husband's routine for two years, during his stay with us. We received his letter after he had moved to Delhi and it started with these lines, ' I hope this letter finds you hale and hearty and watching television with Viki ironing clothes in the other room.' (In my defense, I had two small children to look after)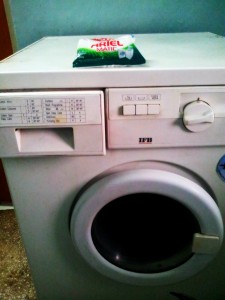 I haven't made my bed tea in all the time we have been married, barring a few times when we were angry with each other for some silly old reason. He is a better housekeeper than me, but then I am a dreamer with my head in the clouds while he is an officer and a gentleman, who sees the clouds, up-close and personal, every day. He doesn't tire of telling me that I am the wind beneath his wings, 'He can' because 'I am'.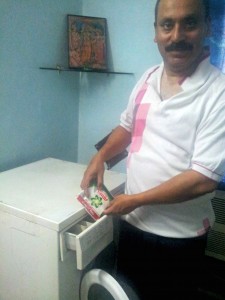 He happily posed for the picture with the Ariel detergent sample I received by courier and also promised to let me do the laundry in peace without coming to my help this time. Both my washing machine and I heaved a sigh of relief. As I took the freshly washed clothes out of my trusted washing machine, mostly his white shirts and put them out to dry, he called dibs on the next load of laundry. My pet peeve is that he takes on too much and doesn't chill enough at home, touch wood. I am sure there are many such good men out there, I am lucky to be married to one.
This review is a part of the biggest Sponsored Review Program for Indian Bloggers. Participate now to get free Products!