My submission for the Ultimate Blog Challenge, July 2014. This month I plan to write about blogging and writing books in the form of haiku (You can learn more about how to write a haiku poem here). This is my humble attempt to learn this writing technique and I would love to share my hits and near-misses with you all this month in the UBC.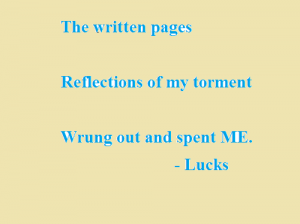 HAIKU
The written pages
Reflections of my torment
Wrung out and spent ME.
– Lucks
By Sulekha Rawat
Linking this to July 2014 Ultimate Blogging Challenge