My submission for the Ultimate Blog Challenge, July 2014. This month I plan to write about blogging and writing books in the form of haiku (You can learn more about how to write a haiku poem here). This is my humble attempt to learn this writing technique and I would love to share my hits and near-misses with you all this month in the UBC.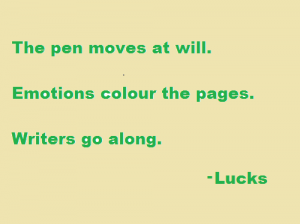 The pen moves at will.
Emotions color the pages.
Writers go along.
By Sulekha Rawat
Linking this to July 2014 Ultimate Blogging Challenge