I am participating in the Blogging from A to Z April Challenge. Today we are  doing a Theme Reveal post hosted by our dear blogger friend  Vidya Sury.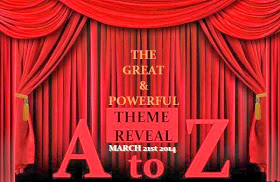 My secret list
This is my third stint at the A to Z April blogging challenge and I am as clueless as I was the first time. Today all my blogger friends are revealing their themes for the challenge, almost all of them have decided upon a structured theme, topics, flow of their posts for the entire month of April. Why then do I find it so hard to come up with a list? Why am I so incapable of making a concrete plan and sticking to it, it will definitely make life more comfortable and the challenge easier to tackle.
I think I know the reason for my hesitancy; I was a breech baby and have always gone against the normal course of nature in life. Just today my friend told me something interesting while we were working on a project; she said, 'You always choose the most difficult way to do things when there are simpler and more convenient ways available'. Maybe it is a flaw, or a condition, a conscious choice, jury is still out on this one.
Maybe I look for problems and challenges subconsciously, I am not satisfied with easy, or maybe I am a glutton for punishment, whatever the cause may be, I love challenges and there can be no bigger challenge for a writer than a month-long blogging challenge. So I am leaving the list undone, unwritten, unrevealed for yet another year and hope to complete my challenge, successfully.
 By Sulekha Rawat
For more themes by other fantastic participants, click here: