This is my entry for the blogfest 2012
COSTUME PARTY
Who doesn't like parties? I love them and the whole rigmarole of getting ready for the same, planning what to wear, intelligent conversations; some not very coherent (post a few cocktails) but thoroughly enjoyable ones nonetheless.
Ever since I had my kids, I changed from being the life of the party to being a casual observer, sophisticated, demure wallpaper. This was by choice and not under duress, but I missed my real self at such gatherings.
Something snapped inside me one day and an old forgotten spark found its way up into my suburban and resigned mind and lit it up with its bright light. We had been invited to a costume party and as usual I had been planning to go dressed as a lady, but my old demons had overtaken my new docile mind and I decided to change my getup.
Imagine the scene, all my friends and family were expecting to see me enter the hall dressed as usual in a traditional sari, and in walks this punk rocker chick with a skull tattooed on her forehead, carrying a guitar in one hand, a can of beer in the other. Multicolored bracelets jingling as she strummed the guitar, black eye shadow and mascara making her appear crazy and scary at the same time.
I was the belle of the ball after ages and it felt good…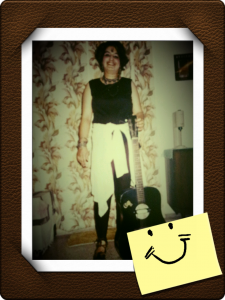 Sulekha
http://www.wine-n-chat.com/2012/10/kicking-off-blogfest-2012-party-time.html