Authors are amazing people. Their books take us on incredible journeys and fill our lives with wonder. I have had the honor of reading and reviewing some wonderful books written by some brilliant minds. Following are a few kind words they have shared with me:
"One of the things that have always struck me about Sulekha's reviews has been the genuine candor. I look up to Sulekha's reviews to identify whether I might like a book or not – and base some of my buys on her reviews. As someone whose work has been reviewed by Sulekha, I also look upon her review (of my work) as something I can learn from and evolve with in my journey as a writer."

– Kirthi Jayakumar,  The Dove's Lament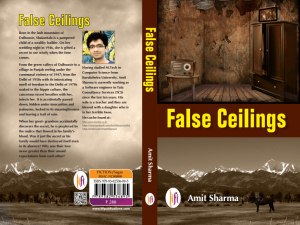 "Writing a book review is an art. Very few reviews are able to bring out what the book is all about and develop a strong urge in you to read the book yourself. Sulekha is one such reviewer. She was very enthusiastic about reviewing my book when I approached her and her review has been my favourite. She writes with a depth and such a nuanced understanding of the plot and characters that it blows you away. I wish we had more reviewers like her."

– Amit Sharma, False Ceilings
"Sulekha Rawat has reviewed two of my books on her wonderful blogs. I felt that she provided a deep and meaningful insight into the books, providing potential readers with an honest appraisal of what they may like and dislike. I found her reviews to be very encouraging and heartfelt, and indeed I revisited what she had written before I wrote my third book. I am so pleased with her reviews and the traction they got, that I would have absolutely no qualms in sending her my future books to review, if she has the time to do so. I have found her to be extremely professional to deal with and I am sure this super blog will go from strength to strength."
– Chhimi Tenduf-La, Amazing Racist, Panther and Loyal Stalkers,
which will be released in April 2017.
"Sulekha's reviews are done from the heart. She gets totally involved with the book she reads and gives an honest reaction how the book grips her. She's reviewed two of my books, All Aboard and The Face at the Window and both reviews are amongst the most charming I've had for these books."
– Kiran Manral, All Aboard, The Face at the Window