HAIKU: ON WRITING OR BEING UNABLE TO WRITE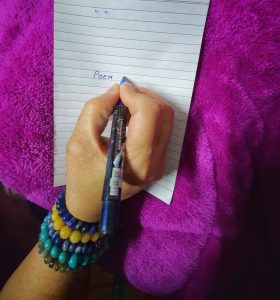 Deserted by words
Empty blank pages mock her
A silent writer.
It has been a while
Inkless and helpless,my pen
Cries to be picked up.
I know many tales
Joys, cheers, fears and salty tears
I must find my voice.
Once upon a time
Writing was easy and fun
Not so long ago.
Ink on my fingers
Satiate my heart and soul
The pages smile too.
Take away my all
What good is a wordless world?
Leave me with my pen.
My ideas, my pen
A muse is overrated
Just commence writing.
No more excuses
Stuff happens, life does go on
Write in spite of all.
Sulekha Rawat