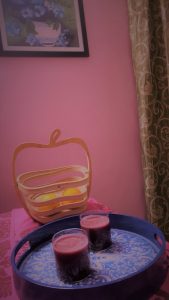 Yesterday, I was in turbo mode, at full throttle in the kitchen. Multitasking is not my forte and agility another minus. Despite my shortcomings, I decided to defy all logic and attempt multiple tasks at one go. There I was, chopping my apple, beet root and carrot for my newfound health drink, ABC. In between, there was milk to be boiled and ginger to be grated. The lemon in the refrigerator kept calling out to me while all this was happening in my tiny kitchen.
The mad dash to the dining room resulted in the milk boiling over. I remembered my mother saying, 'it is good luck if the milk boils over. It is a sign of prosperity and largesse.' This made me feel better about my negligence. Span the camera to the plateful of chopped vegetables crammed in the too tiny grinding jar. In my haste to make my wholesome drink, I forgot to close the lid properly. The result? Absolute mayhem. A beautiful spatter of pink pulp all over the wall next to the mixer grinder and also on the white cupboard doors, the floor, microwave and on the aloe Vera and apple cider bottles lying close by. My T-shirt was stained with the same magenta pink pulp and it was cold. A welcome relief in the hot summers of north India. See, I look for the silver lining in every dark cloud.
As I set about doing damage control, I realized something significant. This incident made me laugh instead of making me lose my temper. The older (read younger) me would have been angry and frustrated at the mess but the older (read older) me was amused. I laughed when the pink mushy pulp sprayed me and the kitchen. Maybe all the spiritual books and podcasts I was reading and listening to were having a positive effect on me. I am not only growing older, but also wiser. You must have read that quote, 'with age comes wisdom.'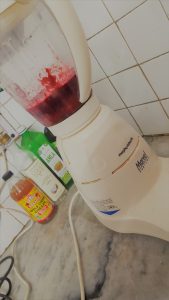 My first thought was to take a picture of the pink splattered walls but my hands were equally pink and wet. It would have made a great Instagram picture with the caption, Caution – scatter-brained cook at work. The apt quote for me would be – 'With age comes wisdom but sometimes it stays back for an indefinite time (read forever).'
I wondered why I had started making this mess (read juice). 😊 Realization dawned:, I was trying to be healthy and fit at the ripe old age of fifty-five. Fitness is the key to a happy and fulfilling life. My dad used to play all kinds of sports when he was younger. Even after retirement, he regularly went for his morning and evening walks. We used to accompany him on his jaunts wherever we could. My older sister runs almost 7 kilometers in an hour daily. I manage to walk on the treadmill for 15 minutes at the speed of five. Everybody has different endurance and fitness levels. We have to better our own selves, and not compare with what others can achieve.
I am not trying to compete with anyone but striving to improve my health, one step at a time. Making small changes in my diet and exercise routine has made a marked difference in my overall fitness. I am nowhere near my goal, but inching towards it steadily. I start my day with a warm glass of water with chia seeds and cinnamon. Next comes my spoonful of extra virgin coconut oil. After a gap of fifteen minutes I eat five almonds (soaked the previous night). I can't do without my tea, even though it is recommended I skip it. Small pleasures in life are to be savored. My breakfast is usually an apple, two boiled egg whites and a glass of milk. Then it is gym time for about an hour.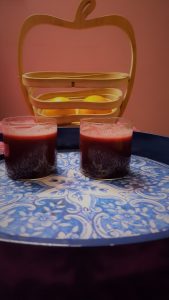 Post gym is lunch time. One chapati, any split dal, a seasonal vegetable with a small bowl of curds and salad on the side comprises my lunch. Tea after an hour of eating is a must. A bowl of peanuts, Chana, puffed rice and Makhana is evening snacks. Dinner is lunch at night; sometimes, the chapati is traded in for a tablespoon of brown rice. I end the day with a glass of milk. A girl needs her comfort drink. 😊
As you all know, I became a proud grandmother last July. This year, I visited my son's family for my precious Roy's first birthday. All the travelling and the festivities there made my weight shoot up alarmingly. The French vanillas and Boston cream donuts stayed with me long after I had devoured them (😊), the jet lag after returning didn't help, nor did the bagful of chocolates I consumed. I missed my grandson and the only solace was eating chocolates. 😊 One fine day, three weeks after landing in India, I checked my weight and it was 80 plus kg (😱). I sprang into action and pulled up my boots (read sneakers) and made a beeline for the gym.
After a week of regular exercising and sweating it out at the gym, the needle on my weighing scale is slowly inching back towards the left. I am happier and I feel lighter (in body and heart), and aim to be as regular as can be in my exercise routine and dietary habits. YOLO, so do it well and enjoy the ride. 😊
Sulekha Rawat