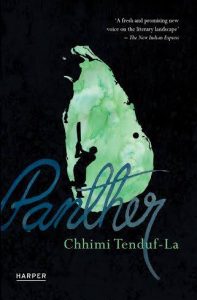 Book Title : Panther
Author      : Chhimi Tenduf-La
Paperback: 272 pages
Publisher: Harper Collins India; 1 edition (28 July 2015)
Language: English
ISBN-13: 978-9351772200
About The Book-
'I see you. Legs like toothpicks, body and face all ribs and cheekbones. And that hair. Come on, what is it? Like friggin' barbed wire. I see you with a hand-me-down cracked bat creaming a leather ball, in a sock, hanging from the branch of a mango tree.'
Being accepted into an elite international school on a cricket scholarship doesn't mean your life is going to change. Except it does, because hunky Indika – I for Indika, I for Incredible – takes you under his wing, drags you to posh restaurants and shows you pictures from glossy magazines of women who … well, never mind, that's not the point. The point is: if your best friend snogs your girlfriend, can he still be Incredible? Was he ever? But don't sweat the small stuff. There are cricket matches to win, examinations to pass, a horrifying past to forget, a sinister schoolmaster to avoid … and, of course, a first kiss to finally experience. Prabu's life is never going to be the same again.
Funny, diamond-sharp and unapologetic, Panther is a novel about that familiar, fractured passage to adulthood that can make us magnificent if it does not kill us.
BOOK REVIEW
Panther, by Chhimi Tenduf-La, is the story of a young boy lost, alone and vulnerable but with a streak of courage, optimism and oodles of loyalty. He tries to hold on to his ideas and beliefs even while being subjected to sometimes harsh, sometimes cruel treatment in the hands of those he trusts and idolizes. He is thrust into the unfamiliar world of deceit and treachery, flounders to stay afloat but for how long. You have to read this gripping and engaging story to know the fate of Prabhu. This is how he introduces himself to Indika, 'My name is called the Prabhu Ramanathan.'
The fictitious war and the invented terrorist organization by the author lay the foundations of this creative fiction but it still makes you tremble with fear and throw up a little in your mouth while reading the atrocities being committed in the story.
As I advance in age, I live one moment at a time and make each one count while adding on to my repertoire of interests and hobbies. Currently I am enamored by acrylic painting and beautiful colors, so naturally this book review is going to be soaked in various shades of vibrant hues I love so much and work with daily.
The primary color of this tale is red, signaling danger, bloodshed and passion: The passion for cricket by Prabhu, yellow for his friendship for Indika and affection for his family, Pink for his love for Achala, black for his dark experiences with people in authority in his life, beige for his pale relationship with Tajana and Ragaa at the camp, grey for the confusion at being abandoned as a child, white for the innocence of Prabhu's loyal heart and purity of his devotion for Indika.
This fictitious tale of war and how it affects all those caught in the middle of it is a difficult read at times. Inclusion of the game of cricket and the humorous interactions between the main protagonist, Prabhu and his best friend Indika keep this book from becoming too serious and melancholy.
I had read Chhimi Tenduf-La's earlier novel, The Amazing Racist, liked it a lot and also written a review of the book. It's a family drama involving a host of characters but the most interesting ones that stood out were the young man and his unbending father-in-law, the story was set in Sri Lanka too. Panther has the elements of humor and lighthearted family drama like The Amazing Racist but it also shows us the scary and sinister aftereffects in a war-torn region. The brutality and suffering depicted here shakes the foundations of our beings, the loss of innocence and the psychological trauma suffered by the children makes us want to go up to them and give them healing hugs. Another feather in Chhimi's cap, this book 🙂
By Sulekha Rawat