Love story of the River and The Sea.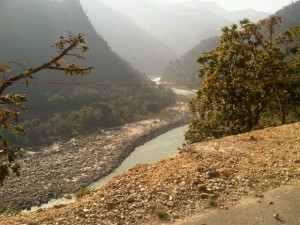 The Sea opened his arms and,
welcomed the rushing river,
in to his all encompassing embrace.
Wrapped his arms around her,
and held her safe.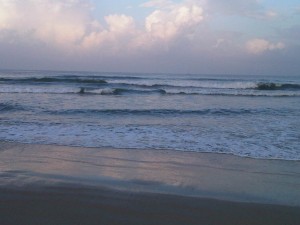 She gave a contented sigh,
closed her eyes in surrender.
She was finally home, in his arms,
and marvelled at this wonder.
The love story of the river,
and the Sea is as old,
as you and me, even older.
It started with Adam and Eve,
and the forbidden fruit,
which was not to be eat.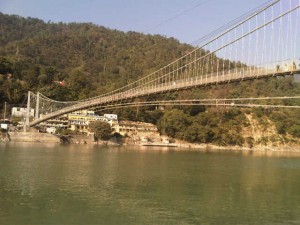 They gave in to temptation,
and for this indiscretion,
they are still being beat.
The coyly dancing,
sensuous river,
entices her lover,
the mighty sea.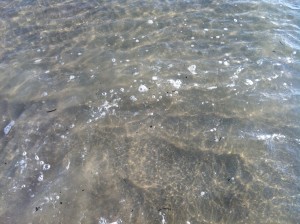 She undulates her nimble curves,
for him to admire and desire.
Her dance tempts himto break all boundaries,
and come half way to meet her.
He knows she is his and will,
come to him in the end.
He waits patiently,
making her stumble at every bend.
She makes haste,
hurting herself along the way.
spills, swells, surges, creates havoc ,
in her impatient rush to meet him.
She hurts herself and others ,
she encounters along the way.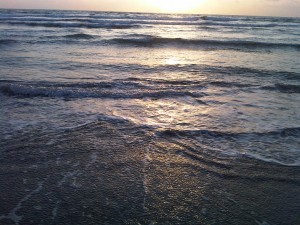 The mighty sea just stands there,
with his heart in his mouth,
with his soul trapped in his eyes,
he waits.
What if she changes her mind,
and takes a different turn,
He is afraid she might,
not come to him.
He prays she comes  soon,
without any delay.
Just then he looks across,
his vast expanse and,
glimpses her gushing,
towards him with eager arms.
She looks beautiful in,
her trembling, aching glory.
They embrace swish and swirl,
their bodies intermingle.
The river is home,
at last, with him,
where she belongs.
Her beloved sea has been,
her every milestone.
He was also her,
final destination .
This with a certainty,
she has always known.

Sulekha Rawat